In 2015/16 Nottingham City Schools were invited to take part in the 'Friday Afternoons Project' run in conjunction with Nottingham Music Service and Music for Everyone and supported by Aldeburgh Music. We have had two events based around this project.
At our Christmas in the City concert at Nottingham's Royal Concert Hall, four of our secondary schools took part in a performance of 'Rain', one of this year's Friday Afternoon songs, written by the American composer Nico Muhly. In the build up to this concert Alex from Music for Everyone, visited the participating schools to workshop the song, along with other pieces for the concert.
On Friday afternoon on March 4th, we also had a celebration performance for the other events in our project. This took place at Djanogly Academy Theatre, where six of our school took part in this sharing event. Each school learnt one of Nico Muhly's songs and performed it on stage followed by a massed choir performance of 'Rain'. In addition to the performances of the songs, some schools also presented a creative response to the songs that they had been working on. Some of these were vocal responses and we even had a dance! It was a lovely event and everyone was extremely supportive of each other. We had students from Year 1 right up to year 7 taking part.
Schools involved in this part of the project were, Djanogly Academy, Nottingham Academy Primary, St Margaret Clitherow RC Primary, Dunkirk Primary, Glade Hill Primary and Mellers Primary.
Other schools involved with these projects were, Farnborough Academy, Nottingham Emmanuel School, Nottingham Academy, Nottingham Girls Academy and Bentinck Primary school.
If your school is interested in putting on your own 'Friday Afternoons' Event, you still can! All you need to do is register on the Friday Afternoons website.
There you can still:
Access all the resources for the songs
Pin your event to the map of events on the Friday Afternoons website
Have your Friday afternoon performance in your own school.
Please let us know if you are planning to put on your own Friday Afternoons performance. We would love to hear it!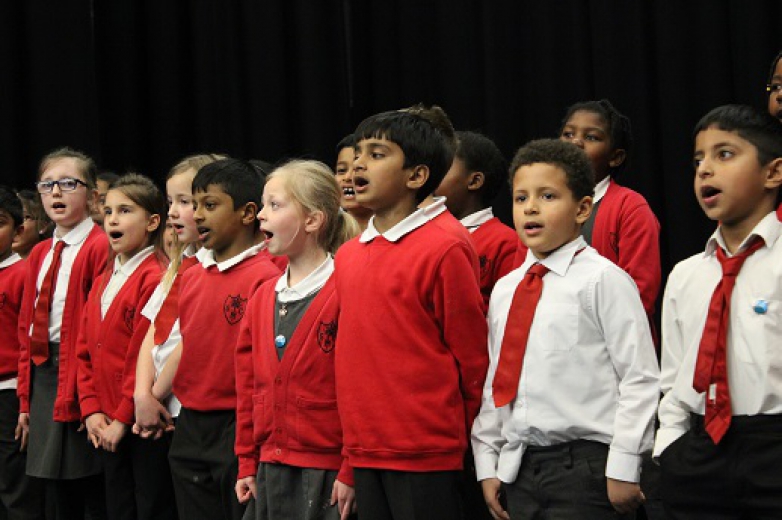 What is the Friday Afternoons project?
The 'Friday Afternoons' initiative began in 2013, as part of the celebrations for Benjamin Britten's centenary (Britten founded the Aldeburgh Festival). We took Britten's set of Friday Afternoons songs, written for his brother's school in the 1930s, made them available as free downloads through the website – www.fridayafternoonsmusic.co.uk – and supported the learning of the songs through extensive interactive resources, including those from Charanga Music, also available free of charge.
What was initially just a Suffolk project became regional, then national, then global, and to date there have been close to 80,000 children involved in the project. For 2015, Aldeburgh Music has commissioned a new set of songs from Nico Muhly. These are principally written for unison voices and piano accompaniment, but also include optional additional parts for more advanced choirs. These songs can be downloaded for free, from the Friday Afternoons website with backing tracks and interactive teaching resources created by Charanga.
The songs that have been written are quite short songs that can be sung as one line unison songs, but they do have optional parts which will develop your choirs part singing. In addition, the songs do not have to be sung just straight. The project actively encourages schools and choirs to add their own spin on the songs, adding extra improvised parts, beat boxing etc or completely dismantling the song and creating their own response to the original!
This is an exciting opportunity for your school to be involved in an international vocal project. If your school would be interested in taking part, please email us at info@nottinghammusichub.org.uk