Nottingham Music Hub Singing Strategy
The Nottingham Music Hub Singing Strategy is managed by the Nottingham Music Service, and delivered in conjunction with hub partners Music for Everyone.

Opportunities include:
Opportunities for primary and secondary choirs to come together for large scale events such as 'Christmas in the City' and 'The Big Sing'
Workshops in schools
CPD for schools on request (Contact graham.drummond@nottinghammusichub.org.uk)
'Sing City', competition for city singers aged 11-18 (Winners perform at events throughout the year, including performances at The Royal Concert Hall and Nottingham's Albert Hall)
Opportunities for young singers to join vocal ensembles run by Music for Everyone.
Introducing Sara King, our new Singing Development Teacher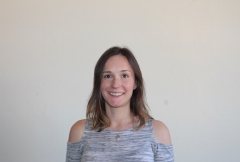 We would like to welcome our new Singing Development Teacher, Sara King to the team. Sara began singing from an early age and trained as a classical singer at Birmingham University. She has a passionate interest in music education and has since worked in over 30 schools in North London as a singing teacher, vocal coach and choir trainer. She is a keen composer and specialises in writing and arranging songs for developing voices.
Sara has already been busy putting her expertise to great use this term, firstly supporting singing and musical learning at our annual Music Camp at Ilam Hall at the start of September, and most recently delivering singing workshops in schools, giving expert advice to choirs as they prepare to record the vocal parts for our charity single, 'If Every Child Could', due to be released in November.
Later in the term, in addition to helping mix the vocal parts for the charity single, Sara will be busy preparing our Secondary age solo singers who will be performing at our 'Sing City' competition in November, and preparing choirs for our 'Christmas in the City' concerts in December.

Sing City is our annual competition for singers aged 11-19 who attend Nottingham City schools, academies and colleges. As well as a competition it provides an excellent opportunity to get constructive feedback from music professionals.
Competition entry is free, closing date for entries is Monday 7th of November.
Further details and an application form can be found HERE.

It's that time of year again, where we invite choirs from all our city schools to take part in our Christmas in the City concerts.
This year we will be performing our charity sing, 'If Every Child Could', which will be released digitally in November. Our two Christmas concerts will be the first official performances of this song. In addition to this we will also have some other songs to sing at the concert. Look out for an invitation letter being sent to schools before half term.
In addition, please look at our singing resources page, as resources are now there with links to backing tracks, performance tracks and lyrics! Click here for Christmas 2016 Choirs Resources Page.
For more information please follow this LINK.