The Ultimate Flyby Orchestra
Music for the Speigeltent gig on October 2nd
Music and rehearsal material for this gig are available from the menus on the left of this page.
Orchestral parts for eight of the ten pieces are ready to download from this site. These pieces are:
Dr Who
Berlioz SF
Passacaglia
Montuno
William Tell
Live and let die
Fire Track
Calum-Feathers
Please download your part for each of these eight pieces and bring to the first rehearsal, either in print form, or by downloading onto a tablet.
If you have an Android tablet, we recommend using the excellent MobileSheetsPro app.
Printed music will be given out at the first rehearsal only for the two other pieces (Danse Macabre and Oye Como Va).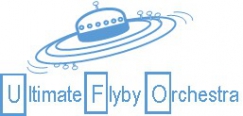 What is the U.F.O.
The Ultimate Flyby Orchestra is an orchestra that can morph into a salsa band. One minute it could be a Big Band, the next an Asian Fusion group. A Hollywood session orchestra that transforms back into a classical orchestra or into the unknown...
The UFO consist of a group of highly skilled musicians with links to Nottingham, who are dedicated to providing high quality performances and breaking down barriers between musical styles. Supporting the work of Nottingham Music Hub (via funds raised at events) the group provides an exciting and innovative alternative to the traditional orchestral experience.
UFO meets from time to time rather than regularly (as much as anything because that is all the coordinators can commit to) but will pop up to do a gig on three rehearsals (hence 'Flyby'). We are building a pool of musicians on an invitation basis and will fix the ensemble for each event, depending on availability and the forces needed for the music being performed.
Over 18 and interested in being part of the pool? Email ultimateflybyorchestra@gmail.com